Suits Season 5 Premiere
Yep! This post is 2 weeks late! How did I not know that Suits was back already? But what an amazing premiere. This show is too good and literally one of the bests. I recently started watching this a month or two before in like 2/3 days even though during that time I had to revise for my A Levels, but oh well I still went along with it.
And I must say this show was worth having to skip a bit of my revisions, because it is so addictive and freaking great <3 The casts are great and hilarious and so fun to watch. I wouldn't want any other casts replacing them because they know how to play the characters so well.
Now back to the season 5 premiere. It was outstanding. Mike and Rachel are just so cute together, I love them being engaged and happy. I hope it lasts though. Especially because of Rachel's dad. And plus Rachel and Mike have had their rough patches too, and at least for a while I hope it all goes well for them.
Seeing Harvey vulnerable was upsetting but great to watch because not everyday do you see Harvey having a panic attack and not accepting the truth. And the fact that he had to see a therapist in order to sleep well, and overcome his panic is a way of showing that even Harvey is a human who feels things despite not confronting it.
To anybody Harvey having a panic attack over a secretary is nothing but if you watch this show, then you know that it is more than nothing. It its literally everything. Harvey entered that office with Donna, he made sure she came with him, she is his supporter, friend, rock, his everything!
It sucks having Donna away from Harvey, because those two ate OTP. They are meant to be together no matter what because they have been through so much, and now that Donna is not working for Harvey anymore is so abnormal.
Now we know sooner or later she's going to come back to Harvey but until then she knows how Harvey is, and being an independant and strong woman she is going to stick to what she believes and thinks is right.
Let's talk about the funny moment in the premiere episode shall we when Mike and Harvey went to meet Slattery's biggest debt-holder, which I must say was entertaining seeing them all three do impersonations, especially Harvey and Mike. That duo is absolutely amazing, literally love their friendship.
I sometimes enjoy seeing Louis and sometimes I don't but I guess he's not too bad because he does have his own fair share of crap that has been done on him. But I felt sorry for him because he doesn't think that Donna is going to be staying with him for long because no matter what Harvey will always get what he wants. And if he wants Donna he will get it, but not so easily.
No we all know that behind that mask that Harvey is behind, he is deeply affected by Donna's action, and even though he says that he is not bothered and has no issue with Louis, I think we all understand what he means by that. Of course there is hard feelings and there will always be.
Donna working for Louis will obviously not be an easy transition. Louis is a demanding boss, whereas Donna does things at her own pace, plus she is so comfortable with the way she has worked for Harvey, that it is going to be hard and interesting to see how it works between her and Louis.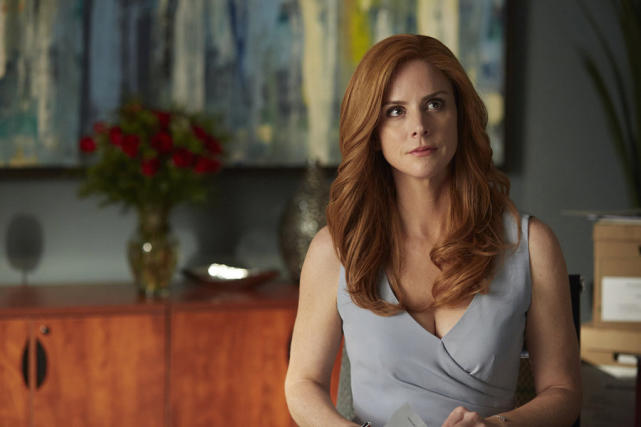 Lastly the interaction between Donna and Rachel, this friendship is another from the show that I love, because they are there for each other always. It was nice to see how there was a small moment showing what Rachel has done for the day whilst Donna is not there for Harvey. Though the whole episode was focused on Harvey and him trying to settle and overcome his problems, the fact that the directors put that in was great. It shows that despite the main storyline, the other small things that has happened is still shown.
Can't wait to see what this season has in store for us :D Leave your comments down below on what you thought of the episode and what you liked or disliked about the premiere.