Hey lovelies, it's the last month of summer holiday for me, and honestly, it's going to be the same as the other two months. Work and binge watching. A month ago I posted a list of KDramas that I had been watching, which I will leave the link to right
here
. Since then I've watched more, and here is my recent up to date list.
Doctors
The right mentor can determine if you go to jail or achieve something greater in life. Yoo Hye Jung (Park Shin Hye) has had a tough childhood and difficult life. She has dealt with the life challenges by becoming emotionally guarded and acting like a tough bully at school. When Hong Ji Hong (Kim Rae Won) meets Hye Jung, he recognises her intelligence behind her gangster façade and sets her on a path to become a compassionate doctor.
Now a doctor in a neurosurgery residency at a major hospital, Hye Jung works alongside fellow residents Jung Yoon Do (Yoon Kyun Sang) and Jin Seo Woo (Lee Sung Kyung). But when Seo Woo becomes Hye Jung's biggest rival both professionally and personally, can Hye Jung overcome yet another major obstacle to her own personal happiness?
Comments:
I was trying to stay away from ongoing dramas simply because I knew I wouldn't be able to wait each week for the next episodes. But as much as I wanted to, I heard way too many things about Doctors, W, Uncontrollably Fond, and Whirlwind Girl 2, that I just had to. Doctors just recently finished, and it's freaking bittersweet because as much as I wanted to see what the end of the problems, I didn't want the show to come to an end because of the beautiful love story between Hye Jung and Ji Hong.
Other the relationship, what I loved about this drama was the way it handled the "forbidden relationship" between a teacher and student. Problems within families. Trust. Love. Friendship. There were many moments where you are like "awwww" because of the sweet love that Hye Jung and Ji Hong share, or laugh at the banters between the surgeons, or mentally curse the people that cause so many problems. And of course, we got to mention the OST. The OST for Doctors is so lovely, sweet and melodious! Totally have a couple favourites!
W - Two Worlds

What is real and what is made up? In a bizarre blurring of truth and fiction, Oh Yeon Joo (Han Hyo Joo) is a second-year cardiothoracic resident doctor whose father mysteriously disappears one day. Oh Sung Moo (Kim Eui Sung) writes the most popular webtoon series known as "W," but his assistant artist, Park Soo Bong (Lee Shi Un), is in a panic because Sung Moo disappears on the day before he is supposed to finish the final episode of the webtoon.

When Yeon Joo goes into her father's drawing room to investigate, an unexplainable thing happens. A bloodied hand appears out of a tablet screen and pulls Yeon Joo onto a rooftop where Kang Cheol (Lee Jong Suk) is bleeding from a stab wound. Yeon Joo ends up saving Kang Cheol's life, only to realise after the incident that Cheol is the main character of her father's webtoon!

The next day, Sung Moo just as mysteriously returns and is intent on writing the final episode of the webtoon and once again tries to kill off Kang Cheol. But when Yeon Joo tries to talk her father out of ending the series, she finds herself sucked back into the world of Kang Cheol, his secretary Yoon So Hee (Jung Yoo Jin) and bodyguard Seo Do Yoon (Lee Tae Hwan). Then everything that happens to Yeon Joo in Kang Cheol's world is automatically drawn as the next episode of her father's webtoon. Why is Yeon Joo becoming embroiled in the fictional life of Kang Cheol and who is writing the story?

Comments:
I think I got to admit that this drama is definitely one of the top top ones (with DOTS, Healer & Kill Me Heal Me). The intensity and curiosity that comes from watching just one episode are good. You can't help but keep watching. This is one of those dramas that will kill you, because of the story line itself. I feel like Yeon Joo when watching "W" because it technically is me watching a "Webtoon". I feel so invested in this drama, that I truly don't want it to end. The whole Sci-Fi plot of there being another dimension doesn't feel so Sci-Fi'ish to me and that's one of the things I love about this drama.
And oh my gosh! The pairing in this drama is definitely OTP! Not just on screen but also by watching the behind the scenes, they definitely look so sweet together! There're just 4 more episodes, and to be frank I don't know what those episodes will unfold, because the thing is, the minute you think, "It's going to be okay now", things start to change, and new mystery's start to happen. Honestly, though, this drama is freaking outstanding!
Uncontrollably Fond

People change but can the heart adapt? Sin Joon Young (Kim Woo Bin) and No Eul (Suzy) were inseparable and very much in love in their younger days. But uncontrollable circumstances separated them and they went their separate ways. Joon Young is now a superstar actor and singer, while No Eul became a producer-director of documentaries. When their paths cross again years later, Joon Young discovers that No Eul is now a very different person than he remembered — materialistic and willing to do anything to get ahead. Is there any hope for Joon Young and No Eul to rekindle their past relationship?

Comments:
Uncontrollably Fond must be one of the dramas that make me so infuriated, annoyed yet love it to bits. The pace of this drama in comparison to W, is slow and calm. When watching this show, I feel annoyed with Joon Young's actions, but in contrast I can understand why he does those things, and it's the same with No Eul, which is what makes me frustrated with the drama because I know why they are doing those things, but being a girl that wants them to be together happily, I know it can't happen yet.
With there being 2 episodes left which are taking place next week, I just hope *fingers crossed* that what I think might happen, won't happen. I want them together. From the synopsis, there is a crucial detail that is cunningly missed out, which is revealed in the first episode, so when you do watch this show based on the synopsis, then just remember the drama is about something much bigger. The OST in Uncontrollably Fond is lovely, especially A Little Braver and Across The Oceans.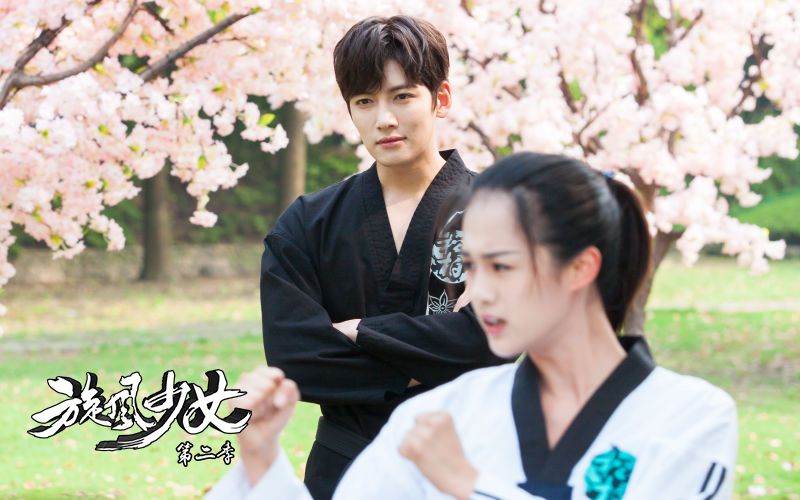 Whirlwind Girl 2

Can a young woman regain her passion for martial arts? Qi Bai Cao (An Yue Xi) was adopted and raised by a taekwondo master after a childhood fire killed her parents. After losing her beloved mentor and a national competition ends badly, Bai Cao loses her motivation to continue training and competing. But by chance, Bai Cao meets Chang An (Ji Chang Wook), a mysterious man who decides to take her under his wings and train again to compete.

Chang An is the toughest instructor and pushes Bai Cao like she's never been pushed before, only because he knows that she has the potential to do well. Fang Ting Hao (Chen Xiang), who develops feelings for Bai Cao, trains to capture not only the national title but also Bai Cao's heart. Can Bai Cao find the courage to compete again?

Comments:
Whirlwind Girl 2 is the only Chinese drama I've watched so far. In general, the plot of this drama is interesting because of the main lead Bai Cao, who is so driven yet has such a beautiful personality (which sometimes can be too sweet). This drama is actually a second season to the first "Whirlwind Girl", but I didn't watch the first one, and straight went into the second one. So I would recommend watching the first one because they do mention characters like Ru Bai, who is an important character from the first one, and not just that the past history of the side characters are slightly mentioned so if you want to know that properly before watching the second one, then you know what to watch first hehe.
Otherwise, this drama is kind of cringy but nice to watch. Initially, I was wondering how romance was going to be a part of this drama, but gradually that theme opens up, and I'm glad. Getting to see the martial arts in Whirlwind Girl 2 was super cool, the way each moves is shown step by step or various unique ways to enhance strength was so good to watch, because it just shows how hard it can be, and how much practice people actually have to put when training to becoming a pro.
Pinocchio
Can 20-something rookie broadcast reporters make their mark covering the bustling news of a busy metropolitan city? The idealistic Choi In Ha (Park Shin Hye) has her work cut out for her when she becomes a broadcast journalist, especially when she suffers from a condition known as "Pinocchio syndrome," which makes her break out into hiccups whenever she tells a lie.
Her rookie colleagues include Choi Dal Po (Lee Jong Suk), whose shabby appearance masks his true eloquence and sharp memory; Seo Bum Jo (Kim Young Kwang), a wealthy heir who has had everything handed to him in life; and Yoon Yoo Rae (Lee Yoo Bi), whose fangirl knowledge comes in handy in covering the news. Can the 20-something newbie reporters pursue justice as they try to discover themselves in the process?
Comments:
Lastly, Pinocchio. This drama is a completed one, but I heard many good things about it. At first, I watched 15 minutes of the first episode and stopped. Don't know why. I came back with the mission of getting it done and see why it's so good. And I get the hype! The curiosity that comes wanting to know whether In Ha becomes a reporter because of her condition is one of the reasons why I got hooked on watching the drama more. Not just that but finding out how the relationship ( OF COURSE) between In Ha and Dal Po developed, the ups and down were something I really wanted to see!
Also, another reason why I enjoyed this drama a lot was because just like In Ha, I want to show the truth that is kept hidden in the media Industry, hence one of the reasons why I want to be a journalist. Stories are manipulated, directed wrongly, or exaggerated. So whilst watching In Ha, I found that connection with that character which I really loved.