pretty little liars season 6 premiere 'game on, charles'
I'm so excited! Because Pretty Little Liars just started this week! Like OH MY GOSH, the season 6 premiere was so amazing, and just freaky. The torture the girls went through was horrible, but that's 'A' for us because he don't give no crap about the girls. He loves harming them and putting them in trouble. I guess that is what makes Pretty Little Liars fun to watch. But honestly I felt sorry for the girls, and what 'A' made them go through when they went back to their room for their punishment, I wonder what horror they went to, because from their reactions and the sneak peak to next weeks episode it seems like it was so bad! I WANT TO KNOW.
By the way the girls still looked beautiful even though they were outside for quite a few days, all that dirt I guess just made them look more natural and gorgeous.
Mona. Bless her. I like Mona, and 'A' was just a pig for putting her all by herself in that hole. Actually you know what he is freaking heartless, he just lurrrrvs causing harm to Mona! Wait why am I calling him 'A' when he has a name. Charles.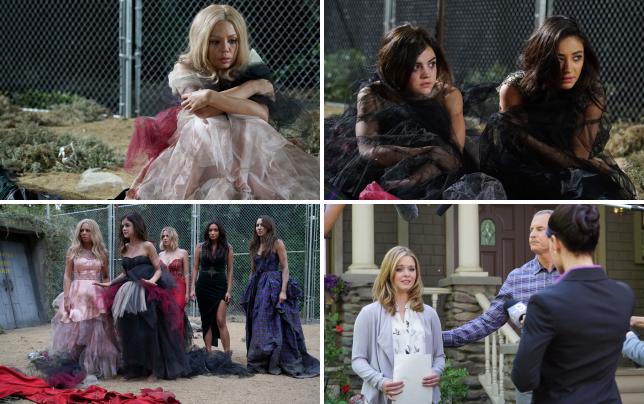 Some photos of the episode.
The girls are traumatized!
Poor Mona :(
What do I say about Charles.
So what we know is that he is a DiLaurentis, who is Alison and Jason's brother. So I don't think it is Andrew because that logic doesn't even work at all. And plus this crap has been going since Alison's
disappearance
as we know that Charles had taken Sara Harvey. That is a huge time period, which I got to give credit to Charles for doing such a great job with the locations, the problems, the texts, the secret identity, for literally managing with everything, and still not being caught.
Sara Harvey - has finally be found. At first I was lost and didn't know who she was. But when they revealed it at the end, I remembered she was the one who was used to be like Alison, and knowing that she was in that dump for many years was quite shocking. But now there will be some parts in the next few episodes that will focus on her, and her part in all this.
Lets not forget the guys, they did an awesome job, especially Caleb. His hacking and technology skills, are on point. He figured were the girls were. Then Toby being quite undercover and helping Caleb with other
information
. These guys are just involved as the girls, and I love seeing them support the girls no matter how much crap they get into.
I loved it when Spencer started the fire, and they all escaped from the dollhouse. Thank the PLL team for giving a smart-ass in the show, because Spencer is so freaking amazing, and I love her character and personality loads. She is so calm, and composed in all problems, and manages to always put her friends needs before her. The part where Charles was behind the glass door was freaky as hell!
At last, the girls finally escaped, without too many problems (besides the fire). It was so good seeing them all hug their other half. Aria and Ezra. Toby and Spencer, Hannah and Caleb, & Emily and Alison. They all looked so relieved <3
The couples <3
This season 6 premiere was really good. Charles stopped playing about, and went all in with the punishment and harassment's he put against the girls. And the girls realised that this time, it was too much and they weren't just going to let 'A' do whatever he desired, and actually fought back really well. This made the episode mysterious, filled with quite a few revelations, and freakiness. I think season 6 will be one of the best seasons of PLL - since I've read some spoilers or revelation about season 6A and 6B.
What are your opinions on the episode, and what do you think will happen? Have any more theories on Charles? Because I don't create theories, instead I love reading theories no matter how crazy and weird they are! :D
A glimpse of Andrew's book.